Improve EFFICIENCY and reach EXCELLENCE

Time, tasks & attendance management made EASY

Real time monitoring and logging of your workers at clients sites

Interested? Need more information?
Vigilant time, tasks & attendance control system
Vigilant Control System cloud portal supports the use of smartphones with our App installed. But there is also a tailored device which replaces the smartphone when the problem is to manage a big work force with many employees. We call it "EASY Reader".
This is a small device in a credit card size footprint. Waterproof, shock resistant and intuitive to use. Just place it over the contactless NFC tag and it will read it. A beep, led light and vibration confirms the action and the data is sent to Vigilant Cloud Portal using a cellphone data link which is embedded inside the reader. That's all!
You will get the tasks time table for each worker, elapsed time between tasks, shifts start&end, customers visited, time dedicated and even incidents which need further attention. All this in real time and reachable trough the Vigilant Cloud Portal. This is a key tool to improve efficiency, boost profits and get your customers satisfied.
We at Vigilant know that smartphones and tablets are not the right tool for everyone everywhere. So we designed and produced our own simple terminal which replaces the smartphone and makes time, tasks & attendance management simple, efficient and cheap. SIM card is embedded in the device so you also avoid paying for the data SIM of a smartphone when using EASY Readers.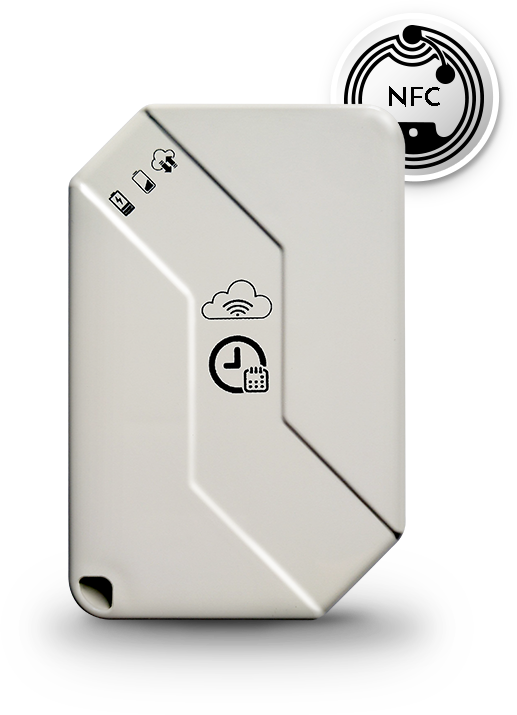 Cleaning management made SIMPLE
Just place the reader over the contactless NFC tag and the device will read it. A beep, led light and vibration confirms the action and the data is sent to Vigilant Cloud Portal using the cellphone data link embedded into the reader. That's all!
All is visually explained in this video. Please watch
Time, Task & Attendance control FEATURES
Can use mixed devices: Smartphone App, EASY Readers and Vigilant fingerprint biometric readers. Tailored to your real needs and company structure
---
Real time operation. EASY readers and Vigilant fingerprint readers are sending data using embedded cellphone data link at no additional cost
---
Fast and convenient system deploy. Just place at least one wireless NFC tag at each customer site. And provide one EASY Reader or App to each worker. Or drop a Vigilant fingerprint reader at working sites were a few of your workers are dedicated continuously, so they will use their fingerprints instead of a personal device each
---
Vigilant Cloud Portal is where you will get all the features needed to manage your workforce. Like:
Time and tasks results by worker
Work planning at customers
Special incidents records and management
Alarms and tracing for pending jobs
Reports emailed directly to customer in pdf and Excel
Workers days off and vacations management
And many other features ….the portal is in constant evolution
---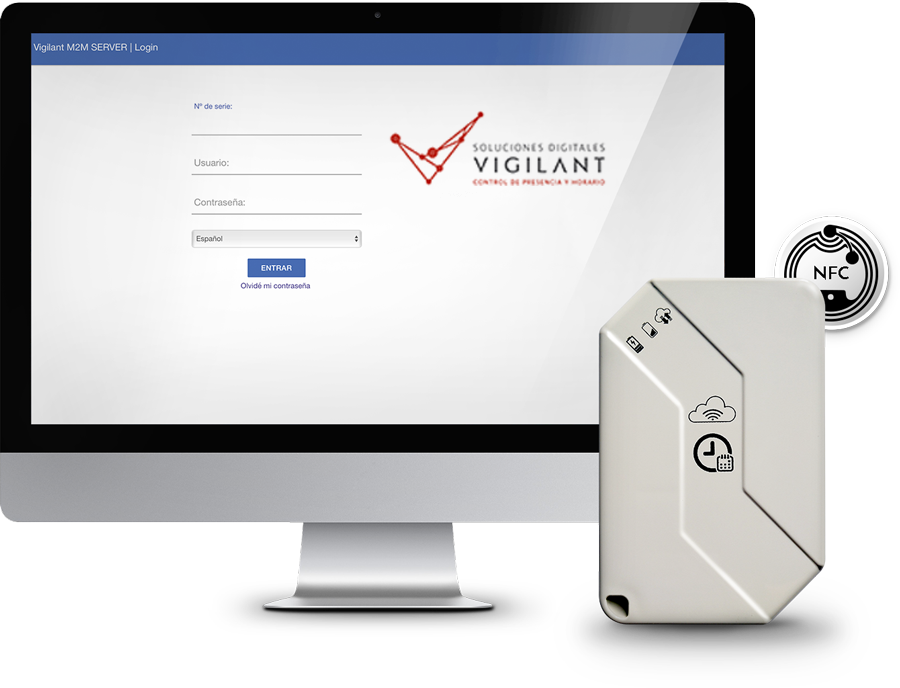 Simple solutions provided to solve complex problems when your workforce is spread around at many different customer sites.
Please contact and let us explain you how

Vigilant Time, Task & Attendance

control system can help you
We have been working in this field for more than 25 years, offering our best products and expertise. Vigilant portfolio of software and hardware tools will help you to imporve your company results, and satisfy your customers.

Let us know your needs. We will help you to find the right solution tailored to your company size
You will keep informed of our news and everything related to our activity.