The digitization of the docu mentation of security services companies, facilities or home assistance is essential in our days.
It provides time savings, information reliability, immediacy and analysis capacity in management. In addition to the elimination of the high costs of paper and printing whose environmental cost is also very important.
Free up time now on manual tasks and dedicate yourself to managing your resources and processes in a more professional way. Vigilant helps you in your surveillance rounds control processes, having the information in real time and digitized.
At Vigilant, in a constant desire for improvement, we add new functionalities to our apps and to our control platform.
SECURITY: News in the Professional APP
Management notices of attendance
Possibility of reporting several observations in the same reading
Choose photos from gallery in addition to camera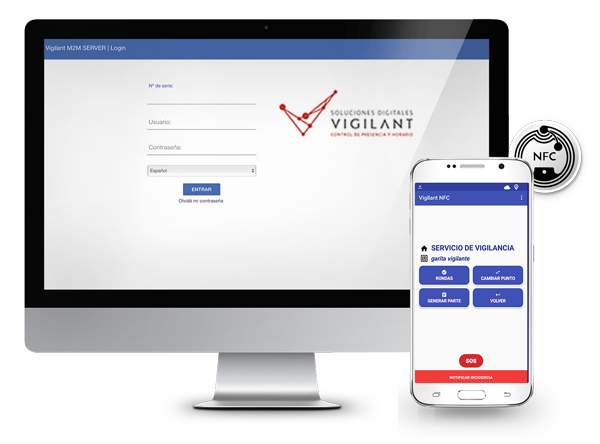 FACILITIES y HOME ASSISTANCE: News in the Planning and tasks APP
Record of journeys and expenses
Worker part of the day
Option to limit workers to only be able to do job packages
When you log out and return to the app if you were inside a center, it is not necessary to redial entry
Choose photos from gallery in addition to camera
Vigilant – time control
After more than 25 years in the sector, at Vigilant we are more than qualified to offer our customers the best products, but above all the best solutions. An experience that has helped us to become true experts in the implementation of these services.
Our systems are manufactured and developed entirely in Spain by our engineers. This allows compliance with the law both in workers who are in an office and displaced people.
New EASY 4.0 READER, with wireless charging
Vigilant, in continuous improvement, launches its version 4.0 of EASY READER, stronger and wireless.
The new version with a wireless charging base eliminates the tangles of the cables, the breakdowns in the usb connector, making the work of your guards more productive.
The charging base is custom made, so there is no possibility of the device being in the wrong position and not charging.
Contact us for much more information about the Easy Reader or any other product.