The registration of working hours came into force in May 2019. The Council of Ministers approved a Decree Law in which it obliged employees to sign in both upon entry and exit. Therefore, companies must keep a record of all their employees, regardless of the day they work. A record that they will have to keep for at least four years and be available to employees and unions. Each worker must know the distribution and duration of their working day. And overtime must be recorded.
Although all companies are aware of the need and obligation to record working hours, some have not been able to make this change and adapt to the new situation. And as a consequence, the first inspections and the first fines have arrived.
Time control software
Time control systems are not new. Many companies have been using programs such as Excel and other databases to record working hours for years. But, a time control software is much more effective. Not only because of the wide range of advantages they offer but also because it allows adapting to the different needs of each company and, even, to new work models such as teleworking.
If you are thinking of implementing time control software in your company, you should take into account:
That adapts to the needs of the company. Each software has some functionalities. It is important to choose one that fits your business model as this can help you save time.

Easy to install.

Software with an intuitive configuration and use.

That allows access to schedules, calendars, tasks … of the entire staff.

It must have all the corresponding security protocols
Vigilant – Time control
The main need for companies is to know when and where their workers join their normal working hours. Or control the number of hours they do.
Vigilant offers you an agile management solution, with a powerful platform developed over the years by our technical and IT department for the complete management of the time control of your company, also providing an interesting solution for the human resources department.
Whatever the needs of your company, we have the solution.
BIOMETRICK CLOCKING TERMINL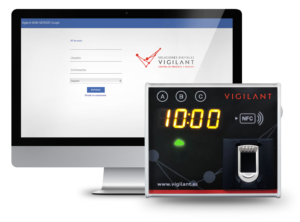 Especially indicated to control the presence of operators in a work center (offices, schools, factories, etc.). The identification of the operator can be done by FINGERPRINT OR NFC.
Sending information online via built-in GPRS SIM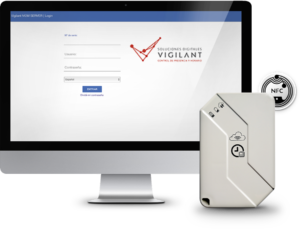 NFC READER for the control of the operators who are offsite by clients. The Easy reader is an alternative to the mobile phone and allows to keep track of the routes of employees through NFC tags placed on different customers.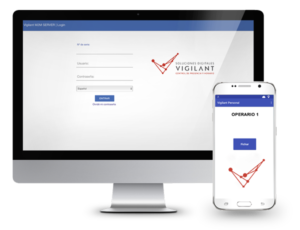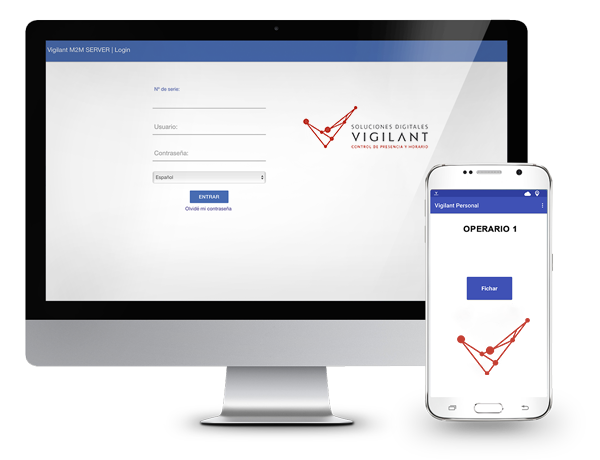 Designed for operators who are off-site and do not stop by the office (salesmen, technicians, installers etc.). With a very low consumption of data, it allows to install the app in the personal mobile of each worker.